Welcome!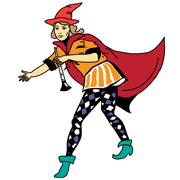 Pied Piper Productions trains children and youth in music theatre. We provide a professional and caring environment where those who have never performed can learn the skills and discipline needed to work in theatre. Six to fourteen year olds with little or no experience can be part of the junior workshops. Those with some experience aged ten to eighteen plus, can work alongside more experienced members of the group to hone their skills in the senior workshops. Under the tuition of highly experienced professionals our students become well-trained music theatre performers some of whom go on to audition successfully for other theatrical groups and a future in theatre.
Nina Stevenson - Artistic Director
Junior Production – November 2014
Imagine what it would be like to travel back in time.  This is exactly what happens to Harriet and Sam when they find and play an old board game called "Time Lord".  They meet a real Time Lord and go on an incredible journey into the past where they meet famous historical characters who each give them a magic object to use if they are in trouble.  But danger awaits.  The Time Lord is captured by the dinosaur King and his cronies.  Can they save him or will the dinosaurs once again roam and rule the earth?
Junior Production – June 2014
One day a large shiny object fell out of the sky into a peaceful community of  Australian animals.  What was this creature? What happens to the animals in the bush where the shy intruder lands?